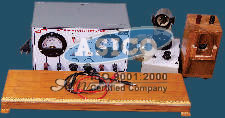 Planks Constant Apparatus (AE 206 )
Objective : To plot Forward & Reverse Characteristics of a Vacuum Photo cell & to Calculate its stopping Potential.
Features : Dual range Power Supply 0-1VDC/ 0-50 VDC with one dual range voltmeter & one sensitive micrometer of 100μA. Photo cell mounted in wooden box having window for injecting light, variable intensity light source & three colored filters.